Arguably the most interesting area of Smilers sheet collecting often overlooked by most collectors and for us the the most interesting. These are true personalised stamp sheets - effectively personalised versions of the generic sheets produced by Royal Mail using customer supplied images. Ours all carry a similar image incorporating the words Customised Stamp Sheet and our Ridgewood Publications logo or have a one-off image connected with the sheet design. We try and use these elements in our label designs for such customised sheets we produce. We produce these in small quantities (usually 10 sheets of each) as a service to Smilers Sheet collectors. Some of these (all but the latest printing) are already out of print and cannot be re-ordered. When they are gone they are gone.
Since 2005 all customised Smilers have been issued in Self-adhesive format and in this updated listing I have arranged new issues on a separate web page to make it easier for you to identify the issue you are looking for. Christmas 2005 and Paddington Bear issues are not included as I have no stocks left for sale, sorry.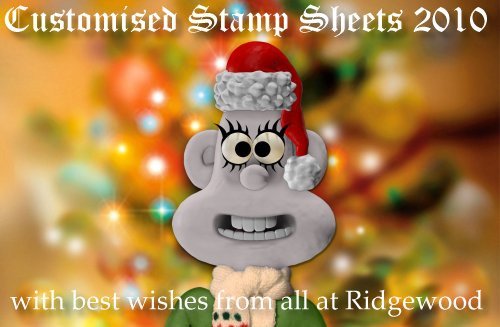 To buy these customised stamp sheets just click on the button links at the left side of this page.